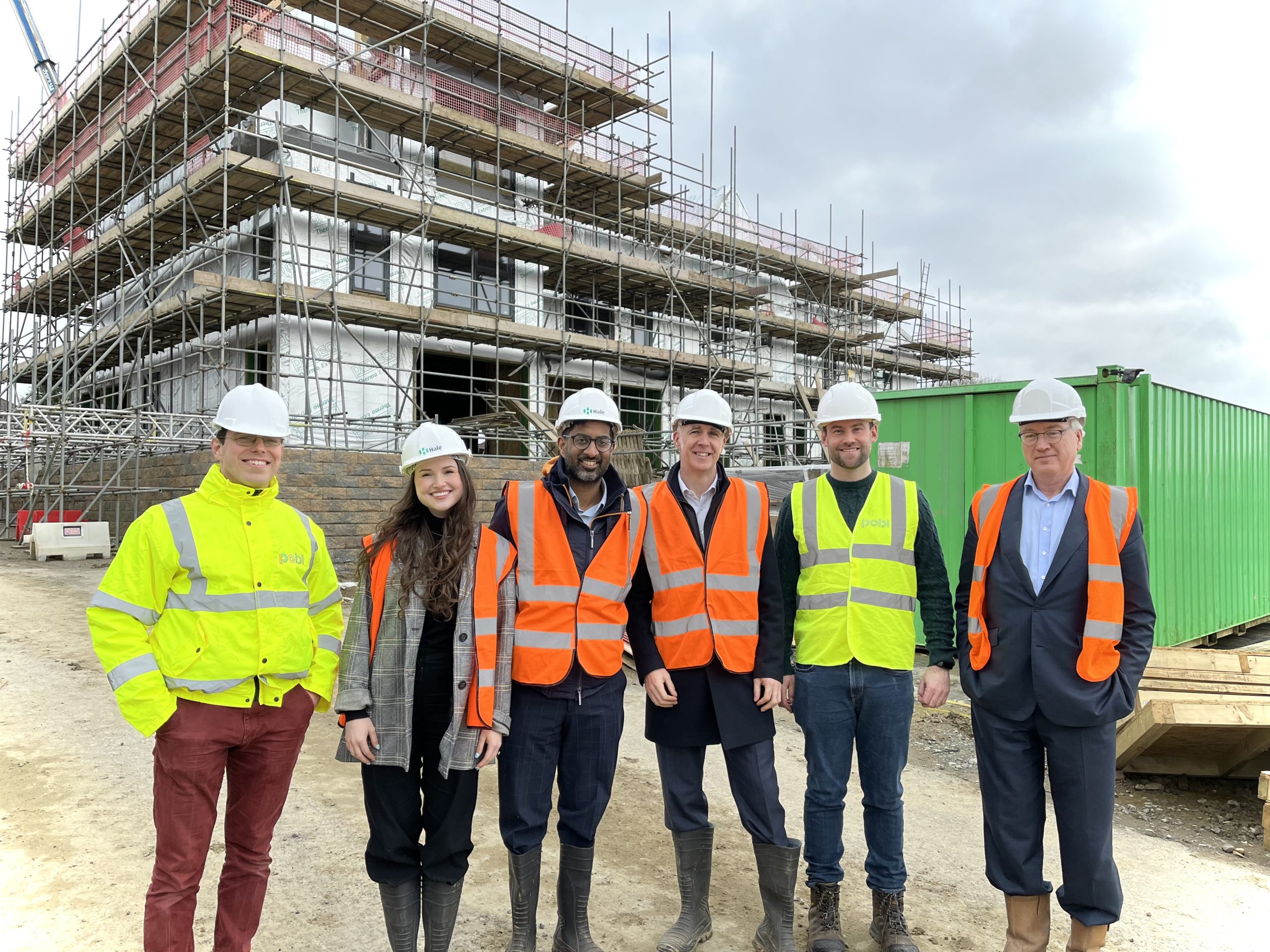 Swansea
13-06-23
Piers Williamson, Chief Executive of THFC, along with members of the THFC Relationship Team, travelled to Swansea on the 21st of March to meet with Pobl Group and visit two of their ground-breaking sustainability projects: the Penderi Energy Project and the Gwynfaen low carbon village. Both sites, the former being the largest retrofit project in the UK and the latter providing a glimpse into the future of sustainable living, are laying the groundwork for a fairer, greener Swansea.
Pobl Group Ltd is a Welsh Registered Social Landlord (RSL), formed in 2016 as a result of the merger between Seren Group and Grŵp Gwalia. Operating primarily in South Wales, Pobl manages over 18,000 homes and offers a variety of tenure types, including social rent, shared ownership, housing for older people, intermediate rent, supported accommodation and student accommodation. Pobl have invested heavily in sustainability and fuel affordability interventions to benefit both the environment and residents, and are on the journey towards delivering 10,000 new homes over the next decade.
THFC originally lent £15m to Charter Housing Association (part of Seren Group) in 2010, with further lending provided to what would become Pobl Homes and Communities thereafter as the foundations of the relationship were built upon.
Penderi Energy Project
The THFC team began the day by meeting with Pobl at the site of the innovative Penderi Energy Project, which is considered the largest community energy-generating scheme in the UK. The project, which is being supported through £3.5m of funding from the European Regional Development Fund (ERDF), £1.6m from Pobl, and £900,000 in infrastructure upgrades by Western Power, is facilitating the retrofitting of 644 homes with cutting-edge renewable energy technology.
Pobl is partnered with renewable energy provider Sero and lead contractor Everwarm for the project. Over 520 homes have had solar panels and/or batteries installed already and funding is being sourced for the final batch of installations.
The homes at Penderi are being fitted with rooftop solar panels and in-home smart battery systems, enabling tenants to generate solar power while the sun is up and use the stored electricity when electricity prices from the grid are at their peak. The technology allows retrofitted homes to generate as much as 60% of their own electricity, significantly reducing energy bills and improving energy efficiency.
Equality is top of mind at Penderi, with all tenants benefitting equally from the scheme regardless of their home's physical orientation. A small number of homes that are unsuitable for solar panels are still fitted with in-home batteries, allowing these tenants to share in the aggregated benefits of energy export savings generated by homes with solar panels. Any excess power produced is exported to the national grid, generating rebates on all participants' electricity bills.
The Penderi scheme is already reducing fuel poverty and meaningfully improving the quality of life for residents. In an interview with the BBC, tenant Nikita Harris said: "I used to spend £20 a week on my electric. Now with the solar panels and battery I'm putting in £10 a week…. Where I used to worry going to bed, I don't have to worry now."
The project has unleashed many other benefits for the Penderi and wider Swansea community. Sero monitor usage patterns and proactively advise residents on actions they can take to reduce their bills and avoid financial challenges. The scheme is also creating new employment opportunities and supporting the green upskilling of the Swansea area's workforce, as well as providing a proven retrofit model that could be replicated across Wales.
The environmental benefits stemming from the Penderi project are significant. Once complete, the scheme is expected to reduce the Penderi community's carbon emissions by an impressive 350 tonnes per year.
Gwynfaen
Next, the THFC team had the pleasure of visiting the Gwynfaen low carbon village development site, located on 6.2 hectares of land. Rooted in innovative sustainable design principles, Gwynfaen exemplifies the coming together of cutting edge, energy-efficient technology and timeless, characterful design. The village overlooks the stunning Loughor Estuary, centred around a large open public green space and community centre.
Each home in Gwynfaen will be completely "combustion free," achieved through the incorporation of solar panels, heat-recovering ventilation (MVHR), air source heat pumps, smart home battery storage systems, EV (electric vehicle) charging stations, and robust insulation in every home. The scheme will consist of 144 units, with social rent, market sale, and shared ownership tenure types available.
In addition to prioritising low carbon living, Gwynfaen village also places a special focus on connecting residents with nature. Over a quarter of the site will be dedicated to public green space, while just 17% of the land will consist of roads (compared to typical house builder average, which is 36%). This design structure will help encourage tenants to spend time outside and engage with one another, as well as support local biodiversity.
Gwynfaen village will deliver significant social and environmental impact not only to its residents, but also by providing a model for future sustainable communities that are truly affordable. In this way, Pobl is leading the way by simultaneously addressing two of Wales' largest issues: providing more affordable housing and working toward achieving net zero by 2050.
The project is being funded by £9.3m from the Welsh Government's Innovative Housing Programme and is set to be completed in 2024.
James O'Connor, Director of Corporate Finance at Pobl, said: "Creating new communities that are sustainable and provide great new places to live is very important to Pobl in the face of the ongoing shortage of affordable housing. Our relationship with THFC is a long-term one and it was a pleasure to welcome Piers and the team to see some of the work our teams are doing in both community regeneration and development of our latest homes."