THFC have followed up the initial £500m guaranteed EIB bank loan to Affordable Housing Finance ("AHF") with a £208m debut long term guaranteed bond carrying a 'AAA' rating from Standard and Poors. It is believed to be the tightest priced public bond transaction in the sector's 26 year history of accessing private finance.
Commenting on the success of the transaction, Kris Hopkins, Housing Minister said: "This government's long term economic plan is working and as a result we're able to offer up to £3.5billion in Government-backed guarantees to get Britain building and deliver thousands of affordable homes across the country. Today's bond pricing represents real progress, offering real benefits to affordable housing providers by enabling them to get access to finance on much more favourable terms"
The credit spread for the 28 year expected life deal at 0.37% over Gilts is believed to be the tightest ever achieved for a Housing Association transaction and reflects the Department for Communities and Local Government (DCLG) 'full faith guarantee' backing the bond along with keen investor interest in the transaction. The transaction was three times over-subscribed and included a number of new investors for the sector. The interest cost was: 3.76%. When incidental costs are taken into account (principally fees, the cost of a 1 year Debt Service Reserve, and legal/trustee costs), this adds an estimated 0.17% giving an all in cost of 3.93%.
"At a time when HA credit spreads have been drifting higher, this represents a real breakthrough" said Piers Williamson, Chief Executive of THFC. AHF's credit spread of 0.37% compares with recent spreads of 1.20% (Radian) and 1.35% (BPHA) an almost 1% per annum saving.
The underlying delivery of homes funded by this bond is national. There are 13 borrowers in the initial bond, including one Scottish and two Welsh borrowers. The largest participant is the 55,000 unit Home Group whilst the smallest is the Surrey based, 1,200 unit Mount Green HA.
To be eligible for funding, HAs must be delivering incremental social and affordable housing beyond that committed in the 2011/15 Grant bid round. However, Piers Williamson highlights that "current grant bid targets, S106, nil-grant regeneration schemes can all be funded, so we haven't had a problem about eligibility when talking to HAs about participating".
Melvyn Garrett Group Director of Finance at Devon and Cornwall Housing (DCH), one of the three most significant participants said: "The Affordable Homes Guarantee Programme (AHGP) is proving to play a key role in the development of new homes within the housing sector. The funding mechanism provided by AHF enables us to significantly reduce new borrowing costs and achieve greater value for money. In addition, the funding profile matches our cash requirement for new homes thereby reducing carrying costs. DCH is a commercial business with a strong social purpose and competitively priced borrowing enables us to build even more affordable homes which is at the core of our business."
AHF estimates that development schemes in excess of 5,800 additional homes have already been approved under the Affordable Housing Scheme. Of these, 4,800 have already been funded, with over 4,100 homes to be delivered outside London.
Security for the underlying loans is based on a minimum of 115% EUV asset cover, close to the 105% EUV level cover typically seen in own name bonds, but without the addition of any financial covenants.
AHF can apply for further guarantees from DCLG up until March 2016, with associated start on sites well into 2017, so it expects to be issuing more bonds in the coming months.
Participating Borrowers: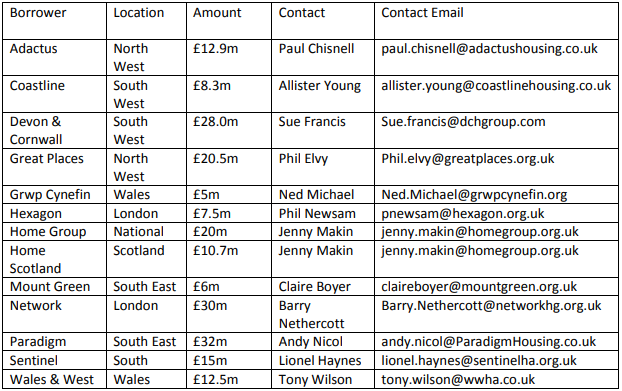 AHF Contacts
Piers Williamson Chief Executive piers.williamson@thfcorp.com 020 7337 9930
Fenella Edge Group Treasurer Fenella.edge@thfcorp.com 020 7337 9923
Sarah Southerton DCLG sarah.southerton@communities.gsi.gov.uk
0303 444 1157