THFC's Government guaranteed bond vehicle bucked the recent trend of widening credit spreads for Housing Association own-name bonds with a £198.5m tap transaction priced today. The credit spread of 0.38% was virtually identical to the 0.37% achieved in the £208m original bond in May, and current near record low Gilt yields also mean that, at 3.30%, this represents by some distance, the lowest long term bond funding rate achieved for Housing Associations. None of the recent spate of own-name bonds and retained bonds has managed to breach the psychologically important floor of 4.00%, so AHF's pricing of 3.3% underlines the differentiation that a Government Guarantee brings to participating Associations.
The trigger for spread-widening elsewhere appears to have been the record absolute lows in Gilt Yields seen in recent weeks. This in turn reflects an expectation of low global growth and particular concerns about the Euro-Zone rather than domestic economics. The UK Annuity funds that are the principal buyers of Housing Association Bonds are seeking to maintain absolute returns by requiring higher credit spreads.
According to THFC's Chief Executive, Piers Williamson "This AHF tap has two things going for it that helps buck the trend. It is 'AAA' rated, because of the Government Guarantee, and the size of this tap brings the deal into most bond indices. That means that investment funds that track the various Sterling Bond indices have to buy the transaction. Even at these levels, the deal was two and a half times covered" said Williamson.
AHF's bond has grown to £408m in a little over 5 months and follows on from a previous £500m long term EIB funding. "We have now taken 25 borrowers through the AHF funding programme end to end" said Piers Williamson, "From G15 Borrowers to small, community based Housing Associations. The common feature of all is that they are committing to the Government's programme of building additional homes". Associations taking part in the record low-cost tap are: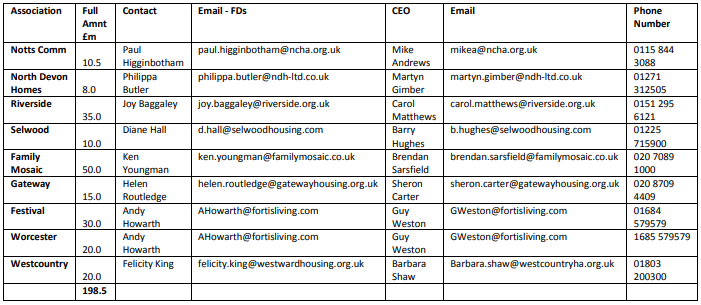 AHF Contacts
Piers Williamson Chief Executive piers.williamson@thfcorp.com 020 7337 9930
Fenella Edge Group Treasurer Fenella.edge@thfcorp.com 020 7337 9923
Sarah Southerton DCLG sarah.southerton@communities.gsi.gov.uk
0303 444 1157